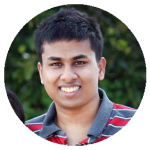 About Me
Hello and welcome to my website. I'm Ayon and I've got a passion for Technology. I'm an IT Consultant, Web Designer, Front-end web developer, Graphic Designer, Social Marketer and SEO Specialist based in Australia. I hold a bachelor's degree in Information Technology from Swinburne University of Technology.
Being an extrovert, I love to meet and connect with people. Hence, I've obtained and worked on projects with clients from different parts of the world including the United States, Australia and few countries in Southeast Asia.
Client satisfaction is my top priority as I put my heart and soul in what I do. So whatever work I do for you, you can always expect a professional service from my side.
If you haven't already seen my work, please view my portfolio to have a glance of what I can do for you. Do check back often as I keep updating my portfolio every week. If you like what you see and wish to hire me or simply would like to meet up for a coffee, just drop me a message.
Sincerely,
Ayon
Skills & Services
Responsive Web Design

Graphic Design

IT Consultancy

Domain Registration

Web Hosting

E-Commerce Website Design

E-Commerce Website Development

Logo Design

Network Design

Social Media Marketing

Search Engine Optimisation (SEO)

Wordpress CMS